Welcome from the Headteacher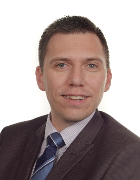 Our school has been an integral part of the community for over 100 years and I understand its importance. I became Head in September 2014, which marked a new chapter following our conversion to academy status. I have taught in other Outstanding schools in Bromley but my time here has taught me that St Mary Cray Primary is a very special place. I am immensely proud to be part of a school community which unites for children. We were delighted to receive 2 out of 5 Outstanding Ofsted judgements in September 2017, with the rest being Good. Whilst I recognise our successes, I am more excited as to how the school develops in the future. As a Specialist Leader in Education and an Advanced Reviewer for Challenge Partners, I am privileged to have had, and to continue to have, the opportunity to go into lots of schools. It means that I have chances to benchmark our school. I continue to learn from these experiences and reflect on how to keep improving SMCPA.
We can rightly be proud that our pupils broadly work at or above national average at the end of Reception, KS1 and KS2. We know we provide fantastic opportunities in computing as the Computing At School Hub for Bromley. We are also pleased to offer numerous enrichment activities including a wide range of sporting opportunities. We have a very close relationship with Bromley Youth Music Trust and have a variety of musical activities woven into both the curriculum and as extra-curricular activities. However, I have the highest aspirations for this school and this community. At St Mary Cray Primary Academy we are determined to provide the very best experiences for children and I look forward to the exciting future for the school.
Mr Adam Lowing
Head Teacher