Lateness
Every school day counts but every minute is equally important!
We support punctuality at St Mary Cray Primary Academy by providing a soft start each morning for our children. By opening our doors to children at 8:30am there is a 25 minute window before registration at 8:55am for them to settle and prepare for their school day, this includes catching up with friends!
Making sure your child is at school and ready to learn, before the school bell rings, is key to ensure they don't miss out on key learning and start their school day unsettled. We therefore encourage parents to aim for 8:30am, and if you are running late for 8:30am then you should still arrive to school on time.
We understand that school mornings can be hectic, but...
Did you know?
Being 15 minutes late each day is the same as missing two weeks of school!
See our minutes lost calculator below to find out how much school you miss each year if you are late: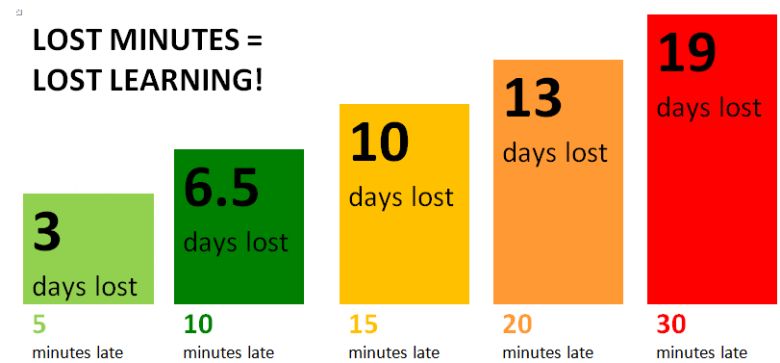 Being in school on time
Is a positive start to the day
Helps your child ger the most from their education
Establishes routine and helps your child get into good patterns for the future
Helps your child to maintain friendships
Leads to achievement and success!
How can you help?
Encourage your child to prepare for school the night before by getting their uniform and school bag ready.
Agree a time with your child and help them set their alarm clock to make sure they get up in plenty of time for school.
Join breakfast club. this way your child can be in school early to have a healthy breakfast and ensure they are ready to start class on time.
Negotiate reasonable bedtimes.
Ensure your child completes their homework the night before instead of at breakfast time.
Organise your child's routine doctor, dentist and hospital appointments for after school.
Create a morning routine including: wake up alarm, breakfast, wash and dress, brush teeth, leave the house by... to arrive to school on time.
Plan your travel noting the route and time. Check for roadworks and traffic, make allowances for delays.
When your child is ready for school on time, praise them and let them know how much this helps the whole family.
If your child is going to be late
we recognise that on occasions there may be a genuine reason for lateness. If your child is going to be late:
Try and inform the school beforehand.
Give an explanation when our child arrives at school.
If there is a particular reason for a child's continuous lateness, please contact the school for support.