Meet Colin, the Therapy Dog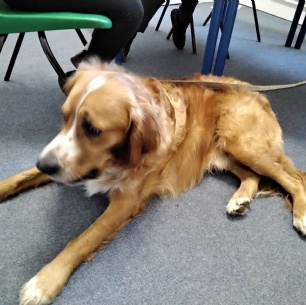 We are very excited to introduce a new member of staff to the team at St Mary Cray Primary School - Colin, our certified Therapy Dog!
Colin is a 2 year old Golden Retriever; the Kennel club describes this breed's characteristics as "kindly, friendly and confident". School Therapy Dogs have been proven to help develop children's reading skills, improve behaviour, attendance and academic confidence, as well as increasing student understanding of responsibility and in the development of empathy and nurturing skills. We will have children reading to Colin as well as them having ad-hoc visits. We hope that a School Therapy Dog will be a beneficial addition to the pastoral support we offer here at St Mary Cray Primary Academy.